Book Reviews

The Gods are Leaving the Country
Art Theft from Nepal
by Jürgen Schick

First English translation 1997.
212 pp., 192 plates in b & w and colour. 29 x 22 cm.

ISBN-10: 974-8299-19-8 Softbound: $35.00
ISBN-10: 974-8299-20-1 Hardbound: $48.00




The Valley Where the Gods Have Vanished
Book review by Martin Spice
(South China Morning Post, Hong Kong, September 3, 2000)


At 5pm last Monday, a small ceremony in the newly restored museum in Patan, Kathmandu, welcomed home a god stolen from the Kathmandu Valley after 800 years of being worshipped daily.
The 60-centimetres-tall stone carving depicts the Hindu god Shiva, his wife Parvati reclining at his side and surrounded by lesser deities, animals and figures. It was stolen in 1982 from Wotol, Dhulikhel, a small village on the rim of the Kathmandu valley, where it had been venerated since the 13th century.
The statue was returned by Marianne Yaldiz, the director of the Museum of Indian Art in Berlin, which bought it from a German art dealer for about US$50,000 (HKS390,000) three years after it was stolen.
Others are not so lucky: estimates are that thousands of statues have been ripped out of the valley in the past 20 years. Almost none are recovered.
The return of the statue is something of a triumph for two men, Jürgen Schick and Lain Singh Bangdel, who have been documenting art theft from the valley since the early 1980s. Both have published books containing photographic evidence of statues that have been stolen, many of them featuring "before" and "after" shots. It was after being confronted with such solid evidence that the Berlin museum agreed to give back its Uma-Maheshwar, as these statues of Shiva and Parvati are called.
It is the second major homecoming in the past 12 months. In August last year, an unknown American collector returned three sculptures and a fragment to Nepal after it had been pointed out to him, with photographic evidence, that they had been stolen.
When Schick started to photograph the sculptures of the valley in the early 1980s, theft was far from his mind. Overwhelmed by the quantity and quality of art to be found in the open air, he decided to document the pieces.
"My idea was to make a nice book of the statues of the Kathmandu Valley. It had never been done before. It was a treasure hardly touched," he says. So for three or four years, he criss-crossed the valley, photographing stone carvings in temples, village bathing areas and even in the middle of fields.
One event changed the whole pattern of his work. "I had photographed a beautiful, metre-high statue of Saraswati in a small temple near Pharping on the southern rim of the valley. It had never been photographed, never documented; there was nothing about it in any book.
"It was a masterpiece, it was very beautiful, so I was happy to find it and I photographed it in May 1984. In December 1984, I returned and saw that thieves had tried to steal the entire image from its setting," he recalls.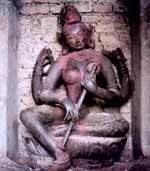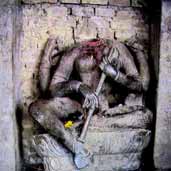 "But it was too heavy, so the foot broke off. It was not sellable any longer. So they just cut off the head because the head of a statue will also bring in money if you cannot sell the whole statue."
"Seeing that was a very nasty experience. And at about this time I noticed that more and more, all the things I was after for photographing, others were after for stealing. Statues were being stolen faster than I could record them."
After this experience and a number of others like it, Schick set about the task of trying to protect the heritage of the Kathmandu Valley, photographing dozens of statues that were later stolen and then, after the theft, returning to record the desecrated site. His book of these photographs, The Gods Are Leaving The Country, was published in 1989 in a German edition and re-published in an English edition in 1998. Used together with Bangdel's book, Stolen Images of Nepal his work has now made it possible to locate illicit artefacts in private and public is collections.
The extent of the thefts is awesome. "There is not a single one of the hundreds of temples in the valley from which there has not been a theft of statues or decorations or ornaments or carved roof struts," claims Schick. He is in no doubt that the thefts were organised and orchestrated by one or more people with good connections to the international art market. As he puts it, "This enormous amount of theft corresponding to the enormous amount of most valuable ancient art concentrated in the valley convinced me that it was not an occasional thing but a business."
The result, he believes, is that what remains is a pale shadow of the enormous richness he saw when he first visited Kathmandu in the early 1970s.
"I would say that 50 to 60 per cent of all the art that was created over the past 2,000 years has been stolen since the country was opened 35 years ago; those pieces that survive are broken or of minor importance or of less artisanship. Nowadays you don't get an idea of the wealth that was in the valley."
These losses are evident to any casual observer. A walk through Patan Durbar Square, one of the glories of the valley and a World Heritage Site, can be a depressing experience if you have an idea of what is no longer there.
The Royal Palace has been restored but there are gaping holes where exquisite wood and stone carvings and metal castings should be. To take but one example, the torana over the golden door to the Taleju Bhavani Temple has been robbed of 12 precious bronzes. The Indian river goddesses on either side of it have been stripped of their lotus flowers and decorative haloes, and small statues have been prised out of the door surround. In the courtyard next door, the royal bath has been stripped of much of its ornamentation and is now closed to the public.
Continue your walk through the narrow, crowded streets and the after-effects of the wave of thefts can be seen everywhere. Precious stone carvings have been set into concrete to deter thieves and ugly iron bars now protect images that would once have been openly venerated. Look hard and in almost every corner there are statues and bits of wood carving missing. There is much left to admire but many of the finest pieces are now in sterile museum collections or on pedestals in private drawing rooms.
Schick believes that the rate of thefts slowed down after the 1980s only because most of the best pieces had already been stolen.
And of the most coveted designs, like the Uma-Maheshwar just returned from Berlin, hardly any remain anywhere in the valley. The loss is not just artistic. It is cultural in the most profound sense.
The gods so cruelly stripped from their settings were not simply exquisite artefacts but the objects of daily veneration. At dawn and dusk, local people would smear them with red tikka powder and lay flowers and pure water before them. They were an integral part of the spiritual life of the communities in which they were housed.
Some statues are believed to have more down-to-earth powers. The Laxmi-Narayan statue stolen from Patko Tole in Patan is half-man, half-woman. Pregnant women venerated the god and then placed a drop of oil on the forehead of the combined deity and watched. If the drop of oil ran over the male half of the image then the unborn child was believed to be male; if it ran over the female half of the statue, it was a girl. This particular carving ended up in a 1990 Sotheby's catalogue and then disappeared. In the catalogue photograph it is pristine arid gleaming, all signs of daily worship carefully scrubbed from its gleaming surface.
Because these statues are living objects of veneration in their communities, there is something of a dilemma about what to do with returned pieces. The ideal would be to give them back to the community from which they were stolen, where they would be warmly and ceremoniously welcomed.
But security is a problem. On several occasions stolen statues were recovered before they left the country and returned to their place of origin—only to be stolen a second time. For now, it may be safer for returned pieces to be placed in heavily guarded museums, but it is clearly a distressing solution for villagers who would like to see their gods returned home.
Jürgen Schick's view is that it is better that the images are at least safe. The fragment returned by the American collector last year was the head of the Saraswati statue from Pharping—the act of desecration had triggered his determination to do what he could to protect the heritage of the valley. He still remembers the day of its return.
"The director of the National Museum was very happy when those four pieces came back and arranged a separate exhibition of them. And when I first went there and saw that face again after 15 years, a face I thought was lost forever, I was almost weeping. I was deeply touched."
Whether this slow trickle of returned statues will ever become a flood remains to be seen. Western museums and collections still remain filled with stolen treasures that they are reluctant to lose.
But in Kathmandu, after years of organised theft and vandalism, there is great happiness that at least some of the gods are finally finding their way home.

[Read a review from The Illicit Antiques Research Centre] [More Orchid Press Reviews]